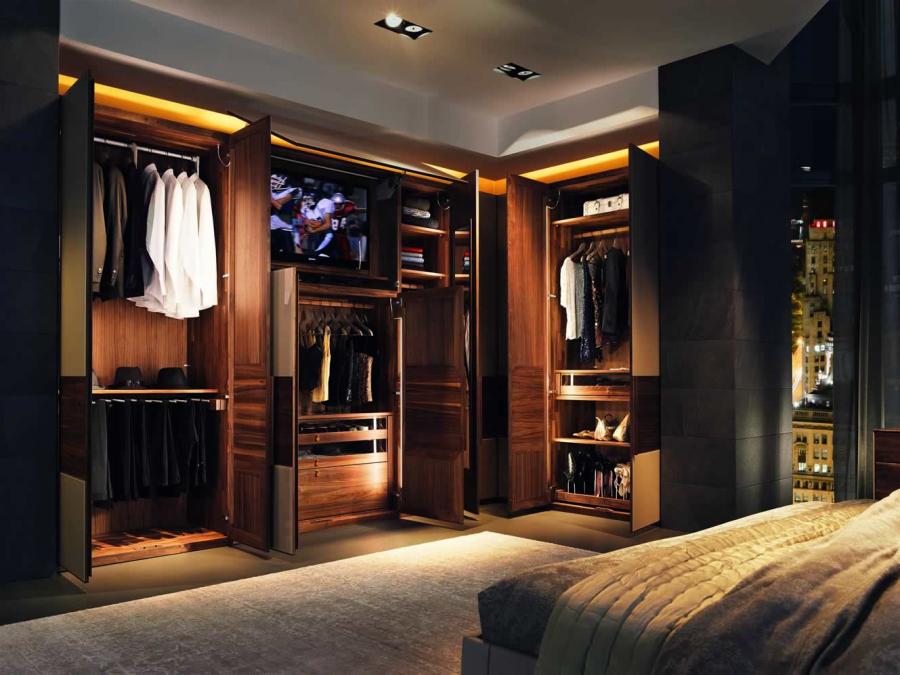 Luxury Closets
Who doesn't love a walk in closet? An open space, with expansive clothing racks and room to walk around while dressing is what probably comes to mind when you think of "luxury" closets.
But we can actually customize our closets too - and European brands often specialize in made-to-order wardrobes and armoires. This really adds a new dimension to the room once you are able to choose your storage components and closet design.
New to European closets? Here are some main characteristics:
Unless we're talking a dining room armoire or the C.S. Lewis novel, wardrobes aren't really a staple in American homes. Our closets are usually built in. This is convenient when it comes to move in time, but it also means we can't take them with us like we would with the rest of our furniture.
Wardrobes, on the other hand, are portable. European closets are often collapsible, and then re-assembled after transport. This means you are able to design storage tailored for your belongings, such as a tie or jewelry drawer, that actually moves with you to a new home.
Your closet can be a furniture staple, just like the rest of your bedroom set, that you depend on throughout your moves.
Luxury Closets
Custom closets offer tons of choice to the designer. This is a part of the home that often gets overlooked, so you can really get creative with the door faces and set an ambiance or personality.
Matte lacquer, wood veneer, or even add-ons like overhead lighting or mirrors give a ton of options for you to really get creative. You can also choose the door style - sliding or hinged, and with handles or without, depending on how contemporary your tastes are.
Custom size and dimensions
Luxury Closets
Earlier we touched on walk-in closets. Sprawling closets have been gaining popularity as of late because of more open loft-style floor plans. And there's no better path to a luxury walk in closet than a custom design built for your own space.
The closed wardrobes are remarkably flexible too, such as the innovative sloping ceiling design above by German furniture company Hulsta. Their Multi Forma II line includes open plan closets as well as tall wardrobes and matching accessory furniture like dressers. There are many choices for the height, width, and depth of units which are able to fit into corners or even span the entire wall.
Storage engineering is an aspect that Europeans really excel at when it comes to their wardrobes. Closets are typically not very organized places - with just a rack and maybe a shelf with a storage bin or two, it becomes a no-man's land with piles of your belongings that ironically don't really "belong" anywhere.
European closets that offer individual planning can really make your daily routine straightforward, with easy access to specialized compartments. A dedicated TV panel, for instance, eliminates the need for a separate TV stand.
Built in drawers are also extremely helpful as a storage tool, as well as more niche storage like tie hangers and shoe racks that are very specific to your own lifestyle.